Conversion rate measurement and optimization must also take the time component into consideration.
A conversion can happen instantly or over a longer period of time. If you're measuring your purchase/visitor conversion rate, the purchase might happen on the first visit, after a few visits or even months after someone has visited your website, subscribed to your e-zine and received weekly communications from you.
I usually define the time component as
immediate conversion (1st visit),
short-term conversion (2-5 visits),
middle-term conversion (first subscribes to e-zine and purchases within a month) and
long-term conversion (purchases after more than one month).
There is no rule of how you define the time component ... as long as you understand it, adjust it to your internet marketing processes and use it.
The time component is one of the more important aspects of measuring the conversion rate.
Delayed Conversion
The conversion most often does not happen at the first visit, or often even doesn't happen after months of visits. Consequently, a specific website element you might be measuring or a specific campaign might not show their real results even months after you've implemented them. Judging too quickly and without knowing all the aspects, such as the conversion purchase time scale after the first visit, will often provide the wrong answer.


Comparing Different Website Elements
In a website test scenario, perhaps doing a simple A/B test, you might be interested in seeing how different modifications increase your e-zine subscribe/visitor conversion rate.
However, changing one element, such as the e-zine subscription box, might also reduce your immediate purchase/visitor conversion, because a strong e-zine subscription box might focus the visitor's attention to first subscribing to the e-zine.
The question now would be whether the additional number of e-zine subscribers on the long-term generate a higher long-term purchase/visitor conversion rate and if the long-term conversion rate makes up for the loss in the immediate conversion rate?
The Conversion Time Component Example: E-zine Subscription Box
To better understand this, let's take a look at a quick example of the largest Slovenian webstore, Enaa.com.
The owner wanted to increase their e-zine subscriber/visitor conversion rate. Their first test was to move the e-zine subscription box from below the left-hand detailed navigation box to the top position in the left-hand column, putting it above the search box and above the left-hand detailed navigation box.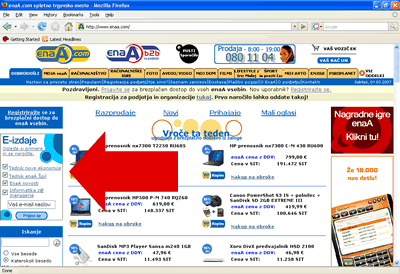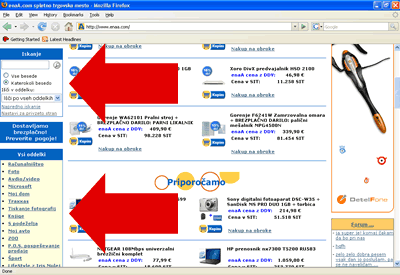 Now consider what this modification can cause:
The e-zine subscription box is now highly exposed, thus increasing the e-zine subscribe/visitor potential.



The search box and the left-hand navigation are now hidden deep on the left, with the left-hand navigation actually being below-the-fold, thus decreasing both the search potential and the ease of use with which users can navigate to all the product categories offered in the webstore. Hence, this modification might decrease the instant purchase/visitor and the short-term purchase/visitor conversion rates. Simply put, this modification means that we just decreased our short-term sales to non-subscribers.
Have you noticed that we mentioned three different conversion rates?
e-zine subscribe/visitor conversion rate
instant purchase/visitor conversion rate
short-term purchase/visitor conversion rate
One simple website modification (moving the e-zine subscription box to the left-hand column top) caused a change in three macro-action conversions!
While increasing the e-zine subscribe/visitor conversion rate was our goal, we also need to understand that this simple modification also changed our sales conversion rates.
This is where the time component comes in.
Increasing the e-zine subscribe/visitor conversion rate caused a higher influx of new e-zine subscribers.


These e-zine subscribers will now receive our weekly sales communications via e-mail, thus increasing the number of contact touch-points.


Since the increase in communications also increases our sales potential, it might be safe to assume that our long-term purchase/visitor conversion rate will increase, thus increasing our long-term sales volume.


However, it is also possible that our e-mail communications are so ineffective that the gains in long-term purchase/visitor conversion gains might not make-up for the loss in the instant and short-term sales conversions, for example by generating a lower average purchase value than that of short-term conversions.
The lesson here is that certain modifications might show their true results only after a certain period of time, and may be linked to many of the other activities we are doing.