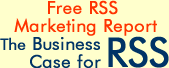 Get the free crash-course in RSS marketing, to find out exactly how you'll profit from implementing this new technology.
Covers everything from RSS for direct marketing to using RSS for SEO.
The RSS Cases Blog
The RSS Cases Blog brings you RSS technology advice, helps you understand RSS technology issues and explains different RSS business cases.
You are here: Home » The RSS Marketing Diary » Other RSS Related Ramblings » Debbie Weil's Beginners Guide to Business Blogging
March 1, 2005
Debbie Weil's Beginners Guide to Business Blogging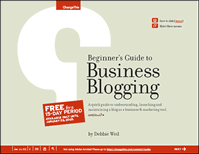 Debbie Weil, one of the most prominent business blogging experts and the author of the "ROI of Business Blogging" e-book, just recently released a free e-book titled the "Beginners Guide to Business Blogging", through ChangeThis.
The manifesto gives you the "what, why, and how of business blogging", on just 41 pages, to get you what you need to know in the shortest possible time.
While the manifesto is no longer available for free, Debbie has agreed to give you, the readers of MarketingStudies.net, the opportunity to still get it free of charge. Debbie, thank you.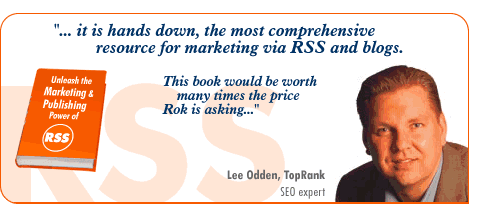 Related Articles
[March 16, 2006]
Make Your Design Sell: A New Book by Roger C. Parker
[March 16, 2006]
When Your Hosting Company Fails: Comments Still Down
[February 8, 2006]
Are Goodmail and AOL Trying to Limit E-mail Marketing to Corporations and US Business?
[January 18, 2006]
Oh, The Stress of Re-Developing Your Site
[January 5, 2006]
Marketers: What To Focus On In 2006
[December 23, 2005]
New MarketingStudies RSS Blog: RSS Cases
[November 8, 2005]
Leaving for Estonia Until November 13
[October 24, 2005]
Back from Atlanta
[October 11, 2005]
Huge Computer Crash
[October 10, 2005]
Lots of RSS News, But Too Little Time
Latest RSS marketing and RSS publishing news, commentary, advice and developments. Your primary source for RSS marketing information and marketing development.
Edited by Rok Hrastnik
---
RSS Feed for this Blog:
---
Unleash the Marketing & Publishing Power of RSS
The e-book that is defining RSS marketing.
---
---