You are here: Home » The RSS Diary » RSS Publishing & Marketing Tutorial
RSS Publishing & Marketing Tutorial
#3: What Kind of Content Can You Publish via RSS?
To start marketing & publishing with RSS, it helps to first understand what kind of content you can deliver via RSS feeds. This is the key to understanding RSS and taking best advantage of it: if you can break down your internet content in to separate "stories", you can publish it using RSS. Let's take a look at some practical examples ...
We continue the RSS marketing & publishing tutorial by explaining what RSS is in the first place.
#1: Introduction to Marketing with RSS
We start the RSS Marketing & Publishing Tutorial with an introduction to marketing with RSS, explaining the key marketing functions that RSS provides to marketers and publishers.
Recent Articles in "RSS Publishing & Marketing Tutorial"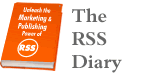 The RSS Diary reports on the developments in the RSS world and on the events surrounding the e-book "Unleash the Marketing & Publishing Power of RSS"
Edited by Rok Hrastnik
RSS Feed for this Blog:
Unleash the Marketing & Publishing Power of RSS

The e-book that is defining RSS marketing.

Bombed Promotion - Back-End Success

What is Open Source Marketing?

The International Direct Marketing Fair Report