You are here: Home » The RSS Diary » RSS Reviews
RSS Reviews
February 09, 2005
My RSS Creator Review & Audio Interview With Rodney Rumford
I recently had the privilege of testing the My RSS Creator, an easy to use hosted RSS publishing solution, and then doing an audio interview with one of its fathers, Rodney Rumford. Continue reading to see a video review of the solution and hear Rodney and me discuss some great RSS case studies, content syndication and other RSS marketing aspects.
February 08, 2005
RSS For E-mail Marketers: RSS Autopublisher Review #1
As I reported earlier on Lockergnome, today marks the launch of yet another hosted RSS publishing solution, this time especially aimed at small-business internet marketers. I've had the privilege of testing the RSS Autopublisher for a few weeks before its release, and was really amazed with the implemented marketing features, such as follow-up autoresponder messages, subscription forms and personalization.
February 03, 2005
Blogs Into Books? Free Traffic Tips [The Book] #1
Tinu Abayomi-Paul just converted her blog on generating traffic via RSS feeds and blogs in to an e-book. An interesting concept, especially for those looking to monetize on their hard authoring work. And a great resource on anything you could think of to use to generate more traffic.
Recent Articles in "RSS Reviews"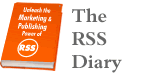 The RSS Diary reports on the developments in the RSS world and on the events surrounding the e-book "Unleash the Marketing & Publishing Power of RSS"
Edited by Rok Hrastnik
RSS Feed for this Blog:
Unleash the Marketing & Publishing Power of RSS

The e-book that is defining RSS marketing.
[March 03, 2005]
What is Open Source Marketing?
[February 28, 2005]
The International Direct Marketing Fair Report
[February 28, 2005]
Affiliate Cluetrain: A New Performace-based Resource
[February 18, 2005]
Experiencing a Writer's Block
[February 17, 2005]
George Bush and the Parachute PR Stunt