You are here: Home » The Marketing Diary » April Archive
April
NYtimes.com Redesign - Hit or Bust?
The New York Times just publicly released their website redesign. Hit or bust? The key question from the website optimization viewpoint is whether the company actually split-tested the website live, on real users, and compared it against the old version to see how the redesign influences their key metrics.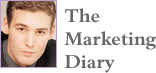 Read about real-life marketing and project management experience, views and results. Follow our projects and see what worked and what didn't and especially what you can learn from our mistakes and successes.
Edited by Rok Hrastnik
Unleash the Marketing & Publishing Power of RSS

The e-book that is defining RSS marketing.

Easy RSS Advertising From Pheedo: Ads for Feeds

Syndicate IQ Shakes the RSS Advertising World With Advanced Ad Serving

Your RSS Marketing Strategy: Deciding How To Deliver Your RSS Content