You are here: Home » The Marketing Diary » May Archive
May
Multimedia Banner Ads That Rock
The internet ad to see ... Some will find it annoying, while others will just love it. My observation is that such unintrussive multimedia ads just might be the future of 'traditional' banner advertising ...
30% of All Slovenians Love Spam?
Our national telecom operator seems to think so, at least based on their recent 'research', prestented at the 2nd Central European Direct Marketing Congress this past week.
I just flew back in from Bosnia, one of the ex-republics of ex-Yugoslavia, of which Slovenia was once part, but was the first to claim independance.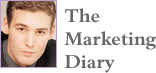 Read about real-life marketing and project management experience, views and results. Follow our projects and see what worked and what didn't and especially what you can learn from our mistakes and successes.
Edited by Rok Hrastnik
Unleash the Marketing & Publishing Power of RSS

The e-book that is defining RSS marketing.

MarketingStudies.net RSS Feeds Now in Full-Text

How Far We Can Go With RSS Advertising

The Gartner Group More Hopeful About RSS Than Jupiter Research