You are here: Home » The Marketing Diary » Project Development: RSS E-book
Project Development: RSS E-book
Real-life reporting on how my RSS e-book is going to be marketed (with what tools and what results, the good and the bad, and all the lessons learned in between) is about to start ...
Recent Articles in "Project Development: RSS E-book"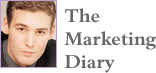 Read about real-life marketing and project management experience, views and results. Follow our projects and see what worked and what didn't and especially what you can learn from our mistakes and successes.
Edited by Rok Hrastnik
Unleash the Marketing & Publishing Power of RSS

The e-book that is defining RSS marketing.

Directly Grabbing RSS Subscribers and Getting Syndicated Through Pheedo RSS Advertising

Why is Everyone Missing the RSS Transactional Messaging Opportunity?

Is Amazon Missing the RSS Advertising Opportunity?

Will Yahoo! Pipes Increase Content Theft?