You are here: Home » The Marketing Diary » November Archive
November
A Personal Story of Helping Hurricane Victims
One of my business partners, Karen M. Wilson, who was instrumental in helping me launch the RSS e-book on the US market, is one of the people you don't get to read much about in the mainstream press. But her story of how she did her part to help hurricane victims certainly deserves to be heard, perhaps even more so then most stories you can read about in your newspaper.
With the constant lack of time, I didn't really have the time to write anything about my speaking in Estonia last week. Exploring internet marketing there actually helped me establish a much better global perspective of our industry, especially comparing it with the US and with my home market, Slovenia.
The Revolution in Online Conversions: Google Analytics
Up until now, small-business marketers and independant marketers really didn't have that much choice in comprehensive web analytics services, as most were beyond their financial reach. Now, every marketer has been given an opportunity to dilligenty whatch their web metrics, especially their online conversion scenarios, and act on them to further improve his online conversions.
Don't Put Obstacles on Your Conversion Path
The Sales Conversion Path is the online process that takes an online prospect and brings him to ultimately placing the order or any of the other key steps that aids you in your online sales process, be it in B2B or B2C online marketing. See how SiteExecutive are doing it wrong by placing obstacles on the way ...
The Crazy Idea of Using Blogs for Business
Input from Slovenia on using blogs for business, and a great example of a mainstream publisher starting their own blogging service.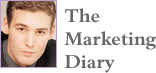 Read about real-life marketing and project management experience, views and results. Follow our projects and see what worked and what didn't and especially what you can learn from our mistakes and successes.
Edited by Rok Hrastnik
Unleash the Marketing & Publishing Power of RSS

The e-book that is defining RSS marketing.

11 Reasons For Using RSS Marketing

RSS On-Site Promotion: To Market or Not to Market

RSS Reader That Converts RSS into Voice ... Genius and Theft

Your Latest Personal Polls via RSS