You are here: Home » The Marketing Diary » Real-life Marketing Experience
Real-life Marketing Experience
Test Results: Optimizing Web Sales via Web Advertising Analysis
In one of the first such studies in the world, after a 1 month research period, which included advertising on 85+ web media and 50 different ad creatives, our preliminary results show that new customers were, on the average, exposed to the ad creative 16.9 times before making the purchase.
Google Moving To CPM: Not a Surprise
Today's reports that Google is beta testing the CPM (cost-per-impression) ad model should come as no surprise. But does it mean they'll slowly abandon cost-per-click altogether?
New Insights in Marketing with Online Articles
While most internet marketers are using syndicated internet content only to drive traffic to their web sites, generate leads and increase credibility, there are definitive strategies for turning online articles in to direct sales tools for practically instant sales conversions.
Discounts Do Not Generate Customer Loyalty
Can discounts generate long-term customer loyalty? Or are they just to dangerous to be used? What does generate loyalty? And what are the correct ways of using discounts? Some basic information from my speaking session at a direct marketing seminar today ...
My 'Finance' Balance Sheet: Wrapping it Up [Part #4]
Time to close this chapter of my life by taking a look at the business concept behind Finance-on.net and some of the things I consider my failiures there ...
My 'Finance' Balance Sheet: The E-book Business [part #3]
How we launched an e-book publishing business that brought in more than 20% of our internet business revenues ...
My 'Finance' Balance Sheet: Profitability and Advanced Ad Formats [part #2]
How we became one of the most profitable EU news media internet departments and how that is actually hurting our long term development. Also find out what new ad formats we launched and how well they are performing, complete with real examples.
My Personal Business Daily Finance Balance Sheet: What We Achieved and How [part #1]
It's time to take a look at my personal balance sheet of the time spent at Finance, especially what we achieved and how. Find out how we reached the #1 spot among top internet ad properties ...
Everything Starts and Ends With People
It doesn't matter how perfect your plan is. You can count on the fact that something will go wrong always when there are people involved, as I learned once again, this time on the Law and Marketing Communications publishing project.
Integrated E-book Marketing Strategies: The Finance Case
A short 'case study' on how we created the first Slovenian e-book bestseller, outselling even 'normal' print books ...
Recent Articles in "Real-life Marketing Experience"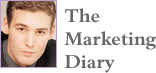 Read about real-life marketing and project management experience, views and results. Follow our projects and see what worked and what didn't and especially what you can learn from our mistakes and successes.
Edited by Rok Hrastnik
Unleash the Marketing & Publishing Power of RSS

The e-book that is defining RSS marketing.

Directly Grabbing RSS Subscribers and Getting Syndicated Through Pheedo RSS Advertising

Why is Everyone Missing the RSS Transactional Messaging Opportunity?

Is Amazon Missing the RSS Advertising Opportunity?

Will Yahoo! Pipes Increase Content Theft?