You are here: Home » The Marketing Diary » Public Speaking
Public Speaking
Internet Marketing in Slovenia
As the premium and traditional Slovenian internet event (Net Konferenca 2005) proved once again, there is a huge lack of understanding and knowing direct marketing in Slovenia. And if direct marketing principles aren't used, internet marketing just doesn't work. On a more positive note, my session was completely 'sold out', with people waiting in line to get in. Also take a look at some photographs of me handing out awards to the lucky winners of the Izidor award for 'web excellence'.
More Notes on Speaking - Doing the Best You Can
What happens when your PowerPoint presentation is missing? Could it be the best session of your life?
This time, however, the audience took me by surprise. Evidently, they weren't marketers. Even worse, they were the users --- the target audience we're marketing to with that project.
Recent Articles in "Public Speaking"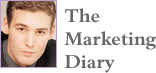 Read about real-life marketing and project management experience, views and results. Follow our projects and see what worked and what didn't and especially what you can learn from our mistakes and successes.
Edited by Rok Hrastnik
Unleash the Marketing & Publishing Power of RSS

The e-book that is defining RSS marketing.

Directly Grabbing RSS Subscribers and Getting Syndicated Through Pheedo RSS Advertising

Why is Everyone Missing the RSS Transactional Messaging Opportunity?

Is Amazon Missing the RSS Advertising Opportunity?

Will Yahoo! Pipes Increase Content Theft?