You are here: Home » The Marketing Diary » The Different Marketing Approach
The Different Marketing Approach
Discovering fundamentally different marketing approaches and considering the future of marketing ...
May 11, 2005
Multimedia Banner Ads That Rock
The internet ad to see ... Some will find it annoying, while others will just love it. My observation is that such unintrussive multimedia ads just might be the future of 'traditional' banner advertising ...
April 29, 2005
Character Blogs Revisited: Whedonesque.com Continues the Conversation
Whedonesque.com, the site devoted to Joss Whedon and his work, such as Buffy and Angel, is continuing the debate on character blogs. If you want to get the consumer point of view, this is a must read. And there are some marketers there as well ...
April 22, 2005
Internet Taking the Upper Hand 'Against' Newspapers: What Can Publishers Do?
Younger audiences, as proved by a recent study, have mostly abandoned print newspapers as important sources of current events in favor of the internet. But what does that really mean? And most importantly, what can newspaper publishers do? And no, blogging is not the only answer ...
April 21, 2005
Business Blogging: What's The Big Deal? Enough Already ...
Most debates about blogging focus on what goes and what doesn't for business blogging, such as the latest character blog discussions. But while we're all seeing (and many 'doing') much talk about blogs, I haven't actually seen any conclusive blog case studies with proven results that without doubt show how blogs impact businesses. Anyway, the Darwin Magazine has an interesting article on why business and blogs don't mix well together, and here's StrategicBoard.com's full response ...
April 18, 2005
Character Blogs as a Branding Vehicle: An Essay On the Use of Character Blogs to Extend the Brand
Character blogs are starting to generate interesting feedback within the blogosphere, getting people on either the positive or the negative side of the fence. This 'essay' was written to demonstrate the enormeous potential of character blogs with the purpose of extending the brand, and to argue why 'authentic' may not really be 'authentic' to many consumers looking for entertainment.
April 13, 2005
'If e-mail is such a pain in the rear, why are marketers and (of all people) their analysts (i.e. Jupiter) so militantly dismissive of emerging technologies like RSS? I can only conclude it's a combination of 'fear of the unknown' and 'this world moves too fast... we just figured out e-mail... give us a break!''
April 11, 2005
How to Compute the ROI of a Business Blog
Most modern marketers require every marketing activity to yield a certain level of return on investment (ROI), which is something especially close to direct marketers. Let's take a look at 4 ways you can determine the ROI of your business blog ...
April 9, 2005
Marketer Against Corporation: The 'Moral' Victory is No Question at All
A couple of days ago, as we reported here, Joe Vitale beat Harry Potter for the #1 bestseller spot on Amazon.com, at least for a few hours. Well, the Harry Potter following responded in an interesting manner, many of them insulting. But let's take a look at the big picture here: one marketer challenging the corporate world and an army of corporate marketers, and winning, even if just for part of the day.
March 30, 2005
Marketing Integration: Let's Just Go Back to Faxing
One blogger 'suggests', as a response to my article on bloggers having to use e-mail, that we should perhaps even go back to sending broadcast faxes. And strangely, in a way, I agree with him, but without the sarcasm. This article is my case on why the question 'RSS OR E-mail' doesn't matter. What matters instead is learning how to best combine multiple channels, which include even broadcast faxing. This is the 'age of the customer', and any pro-choice decision in the favor of the customer does not mean going backward, but forward. [Updated]
March 28, 2005
Defining the Relations Between Blogs, E-zines, RSS and E-mail
The #1 Mistake Most Blogs Do article generated quite some interesting feedback from the blogosphere. What especially strikes me is that somewhere along the line we started comparing apples and oranges, and lost some much needed objectivity. Let's take a closer look at the relations between blogs, e-zines, RSS and e-mail.
Recent Articles in "The Different Marketing Approach"
[March 28, 2005]
Marketing Information With Blogs
[March 24, 2005]
#1 Mistake Most Blogs Do
[March 24, 2005]
Blogs Still Marginal: Does It Matter if It's a 'Blog'?
[March 22, 2005]
Roger C. Parker's How to Profit From a Blog
[March 9, 2005]
Email Marketing Brings In $15.50 per Dollar
[March 3, 2005]
What is Open Source Marketing?
[February 17, 2005]
Alain Jourdier's New Blog
[October 26, 2004]
The Marketing Future Has Already Begun
[October 2, 2004]
What Distinguishes A Marketing Driven Company
[July 13, 2004]
'Blended' and Guerrilla Marketing
[July 8, 2004]
The Connected Society: What Does The Future Hold?
[April 28, 2004]
Using the Reality Show Approach as a Marketing Vehicle
[April 21, 2004]
Fall of Advertising and the Rise of Informational Marketing
[October 14, 2003]
The Future of Marketing #2
[October 13, 2003]
The Future of Marketing
[August 21, 2003]
Fundamental Reading - Take it From the Classics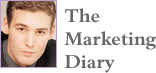 Read about real-life marketing and project management experience, views and results. Follow our projects and see what worked and what didn't and especially what you can learn from our mistakes and successes.
Edited by Rok Hrastnik
Unleash the Marketing & Publishing Power of RSS

The e-book that is defining RSS marketing.
[February 14, 2007]
Directly Grabbing RSS Subscribers and Getting Syndicated Through Pheedo RSS Advertising
[February 13, 2007]
Why is Everyone Missing the RSS Transactional Messaging Opportunity?
[February 12, 2007]
Is Amazon Missing the RSS Advertising Opportunity?
[February 12, 2007]
Will Yahoo! Pipes Increase Content Theft?
[February 9, 2007]
Comments Off Again