You are here: Home » The Marketing Diary » November Archive
November
When Bad Management Destroys Great Marketing
Great marketing doesn't help if there are huge management issues afloat. It's the best way to ruin a company that was once on a great path to becoming a market leader. It's sad, especially when you have an emotional investment in the company itself.
The internet industry, simply put, revolves around media companies and internet ad networks, and some internet agencies. If you're there, you're 'in the loop'. It actually feels quite lonely.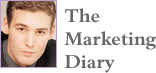 Read about real-life marketing and project management experience, views and results. Follow our projects and see what worked and what didn't and especially what you can learn from our mistakes and successes.
Edited by Rok Hrastnik
Unleash the Marketing & Publishing Power of RSS

The e-book that is defining RSS marketing.