You are here: Home » The Marketing Diary » Project Development: MarketingStudies.net
Project Development: MarketingStudies.net
Now I did it. Frustrated with all the comment spam on my blogs I installed a plug-in to remove it all or most of it - comment spam that is - but not the relevant comments from real people. Now, all comments are gone:(
Hard data on the third MarketingStudies.net e-zine delivery stats with some interesting developements ...
Hard data on our e-zine delivery stats, more precisely from the second e-zine issue sent ...
We're closing down most of the comment features throughout MarketingStudies.net due to an increasing comment spam problem. But no worries, the Marketing Diary comments will continue to work ...
New "Marketing Without E-mail" Column ... Why Are We Publishing It?
Want to know more about publishing without e-mail? We have a new regular column for you, and it's certainly different from what you can usually read on the internet. Even I don't agree with it:)
More hard data on our e-zine delivery stats. The actual relative numbers haven't changed noticably in comparison with the first e-zine mailing (the announcement) we did.
The Difficulties of Delivering e-Mail & The First Issue of the infoMarketing e-Zine Coming Tomorrow!
Check out the metrics we got from sending out the e-mail announcement for our new e-zine. Delivering e-mail is becoming increasinly harder, and here are some numbers just to show you how much harder. Also take a look at a 'brand new' e-mail delivery model ...
Design, HTML and CSS for Marketers
Marketers aren't designers or techies, right? Well, at least to some extent it is useful to be one, as I learned once again from developing the MarketingStudies.net web site.
Recent Articles in "Project Development: MarketingStudies.net"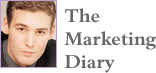 Read about real-life marketing and project management experience, views and results. Follow our projects and see what worked and what didn't and especially what you can learn from our mistakes and successes.
Edited by Rok Hrastnik
Unleash the Marketing & Publishing Power of RSS

The e-book that is defining RSS marketing.

Directly Grabbing RSS Subscribers and Getting Syndicated Through Pheedo RSS Advertising

Why is Everyone Missing the RSS Transactional Messaging Opportunity?

Is Amazon Missing the RSS Advertising Opportunity?

Will Yahoo! Pipes Increase Content Theft?