You are here: Home » The Marketing Diary » June Archive
June
A Great List of E-mail Marketing Vendors
I've been looking quite heavily in to different E-mail marketing vendors lately, as I'm planning on switching from my current system to a hosted solution.
Turning Your Blog in to a Traffic Engine
Now, I usually disslike blogging literature, but this is very different, as it focuses on transforming your blog and your blogging activities in order to achieve higher search engine rankings ... and on writing your blog in such a way that it actually helps you achieve your online business goals.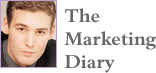 Read about real-life marketing and project management experience, views and results. Follow our projects and see what worked and what didn't and especially what you can learn from our mistakes and successes.
Edited by Rok Hrastnik
Unleash the Marketing & Publishing Power of RSS

The e-book that is defining RSS marketing.

Microsoft Announces RSS Support: Marketers, It's Time

Introducing Attensa and the RSS network

Gnomedex Starting Today: Where to Find Coverage

RSS Metrics Focus: Interview With Dick Costolo and Stuart Watson, Part 4 - Defining RSS Metrics, the RSS Metrics Space and RSS for SEO