You are here: Home » The Marketing Diary » Project Development: The Enlightened Salesperson
Project Development: The Enlightened Salesperson
RSS Blog Moving and New RSS Blog
A place to watch what is happening with RSS and the RSS community, and all the events (with the free content of course:) surrounding my new e-book? And a new RSS e-zine? How about the latest RSS e-book publicity?
Unleash the Marketing and Publishing Power of RSS has finally been released. Is the e-book that will finally define RSS as a relevant marketing tool?
The Enlightened Salesperson Manifesto Launched
Why the Enlightened Salesperson Marketing Partnership Contest Failed?
We polled our marketing partners to see from their viewpoint what was wrong with our contest. The results actually aren't too surprising ...
Enlightened Salesperson Final Partnership Contest Results
The Enlightened Salesperson marketing partnership contest is over and the results are in. Find out why this campaign was my 'greatest' marketing failiure and what actually went down; hard-data included, as usually.
First Day of the Enlightened Salesperson Contest and Evaluating Possible Mistakes
How is the marketing partnership doing on its first day? The results aren't too thrilling, but it's still much too early to tell. Let's take a look at some of the things that could have gone wrong ...
New ES Split-Tests and Partnership Contest
We're just launching a new Enlightened Salesperson campaign for our marketing partners --- see how we plan to increase marketing partnership activities, and also how we further improved the sales web site.
The Enlightened Salesperson Price Test Results
The price split-test gives shocking results ...
The Enlightened Salesperson ChangeThis Manifesto
The Enlightened Salesperson manifesto proposal just got accepted. Thanks to everyone that made this possible ...
I Need Your Help -- Our ChangeThis Manifesto Proposal
OK, our ChangeThis manifesto proposal is now up for voting. If enough people vote for it, they'll ask us to write it for them. But we need your help ...
Recent Articles in "Project Development: The Enlightened Salesperson"

Google Campaign Stopped & Other Updates

New Enlightened Salesperson Campaigns

Log Analysis Results ... and What You Can Learn From Them

And Responses Start Coming In ...

E-mail Still Works ... Or Does It?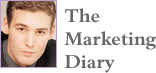 Read about real-life marketing and project management experience, views and results. Follow our projects and see what worked and what didn't and especially what you can learn from our mistakes and successes.
Edited by Rok Hrastnik
Unleash the Marketing & Publishing Power of RSS

The e-book that is defining RSS marketing.

Directly Grabbing RSS Subscribers and Getting Syndicated Through Pheedo RSS Advertising

Why is Everyone Missing the RSS Transactional Messaging Opportunity?

Is Amazon Missing the RSS Advertising Opportunity?

Will Yahoo! Pipes Increase Content Theft?