You are here: Home » The Marketing Diary » Various Marketing Ramblings » Turning Your Blog in to a Traffic Engine
June 19, 2005
Turning Your Blog in to a Traffic Engine
I don't get to do much reading these days, although I'm your regular marketing literature freak. Just too busy most of the time, somehow juggling from project to project.
But, there is one short e-book (just 100 pages) I did manage to read this past week, and it's certainly too good not to be blogged about.
I'm talking about Rescue Your Blog! from Tinu, who I really respect as a marketer and a person as well.
Now, I usually disslike blogging literature, but this is very different, as it focuses on transforming your blog and your blogging activities in order to achieve higher search engine rankings ... and on writing your blog in such a way that it actually helps you achieve your online business goals.
In terms of techniques, Tinu goes from stuff that SEO experts already know (such as that multi-word keywords are better at producing actually buyers than single-word keywords) to some very specific and little-known blog SEO promotional tactics.
Certainly highly recommended, and I do plan on implementing her suggested tactics as soon as I get some time to actually do them.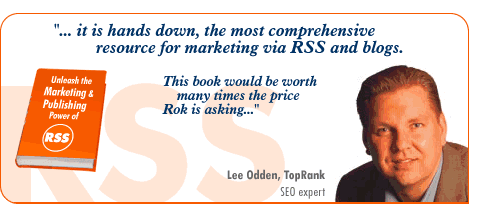 Related Articles
[November 14, 2005]
The Revolution in Online Conversions: Google Analytics
[November 14, 2005]
Don't Put Obstacles on Your Conversion Path
[November 2, 2005]
The Crazy Idea of Using Blogs for Business
[September 12, 2005]
The 7 Steps to Creating the Ultimate Small Business Marketing System
[August 2, 2005]
Heart Kids Blogathon
[July 14, 2005]
Authentication, Accreditation and Reputation for E-mail Marketers
[July 4, 2005]
How New Michigan and Utah Email Laws Affect You
[June 19, 2005]
A Great List of E-mail Marketing Vendors
[May 10, 2005]
30% of All Slovenians Love Spam?
[May 10, 2005]
Internet Marketing in Bosnia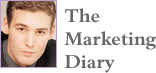 Read about real-life marketing and project management experience, views and results. Follow our projects and see what worked and what didn't and especially what you can learn from our mistakes and successes.
Edited by Rok Hrastnik
Unleash the Marketing & Publishing Power of RSS

The e-book that is defining RSS marketing.
[February 14, 2007]
Directly Grabbing RSS Subscribers and Getting Syndicated Through Pheedo RSS Advertising
[February 13, 2007]
Why is Everyone Missing the RSS Transactional Messaging Opportunity?
[February 12, 2007]
Is Amazon Missing the RSS Advertising Opportunity?
[February 12, 2007]
Will Yahoo! Pipes Increase Content Theft?
[February 9, 2007]
Comments Off Again