You are here: Home » The Marketing Diary » The Different Marketing Approach » Email Marketing Brings In $15.50 per Dollar
March 9, 2005
Email Marketing Brings In $15.50 per Dollar
MarketingSherpa.com reports:
"That $15.50 per email-marketing dollar spent is roughly 17% more than in direct-mail campaigns and 73% more than telemarketing campaigns, according to a new study from the Winterberry Group, a New York-based research and consulting group.

Winterberry also predicts that email sales will go up to $16.70 per dollar in the coming year, compared to $14.60 generated per DM dollar, and $9.71 in sales per telemarketing-campaign dollar.
While my faith in most research stats is less than firm, this study does make a definitive point: e-mail marketing still works and at least "in concept" provides a positive ROI.
Also, my own experience from the US and Central and Eastern European markets proves this point as well, as do the conversations I had with e-mail marketers while attending the International Direct Marketing Fair.
Yes, e-mail is still alive and it still works.
But, that does not change the fact that e-mail is difficult to deliver, and that in most cases it actually does not get delivered. Let's not forget that on the average, 64.7% of the business e-mail you send is not even opened, let alone read, according to DoubleClick.
As a content publisher, I certainly want all of my readers to receive my content. And the same goes for my customers: I want to be absolutely certain that they do receive the important content intended for them. With e-mail, I just can't be sure. RSS is the perfect tool to make this happen.
This brings us to a strange situation where e-mail still generates a great ROI, but RSS is the tool that "gets content delivered". The only sensible way out of this dillema is to use both, hand-in-hand.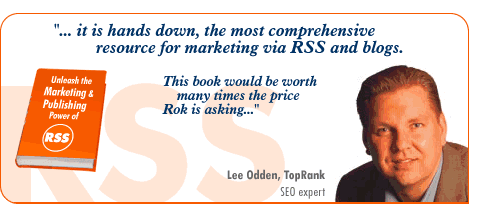 Related Articles
[April 29, 2005]
Character Blogs Revisited: Whedonesque.com Continues the Conversation
[April 22, 2005]
Internet Taking the Upper Hand 'Against' Newspapers: What Can Publishers Do?
[April 21, 2005]
Business Blogging: What's The Big Deal? Enough Already ...
[April 18, 2005]
Character Blogs as a Branding Vehicle: An Essay On the Use of Character Blogs to Extend the Brand
[April 13, 2005]
Marketers, Wake Up!
[April 11, 2005]
How to Compute the ROI of a Business Blog
[April 9, 2005]
Marketer Against Corporation: The 'Moral' Victory is No Question at All
[March 30, 2005]
Marketing Integration: Let's Just Go Back to Faxing
[March 28, 2005]
Defining the Relations Between Blogs, E-zines, RSS and E-mail
[March 28, 2005]
Marketing Information With Blogs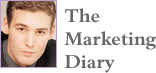 Read about real-life marketing and project management experience, views and results. Follow our projects and see what worked and what didn't and especially what you can learn from our mistakes and successes.
Edited by Rok Hrastnik
Unleash the Marketing & Publishing Power of RSS

The e-book that is defining RSS marketing.
[February 14, 2007]
Directly Grabbing RSS Subscribers and Getting Syndicated Through Pheedo RSS Advertising
[February 13, 2007]
Why is Everyone Missing the RSS Transactional Messaging Opportunity?
[February 12, 2007]
Is Amazon Missing the RSS Advertising Opportunity?
[February 12, 2007]
Will Yahoo! Pipes Increase Content Theft?
[February 9, 2007]
Comments Off Again