You are here: Home » The Marketing Diary » The Different Marketing Approach » Marketing Information With Blogs
March 28, 2005
Marketing Information With Blogs
"There's more to blogs than egos, rants, and opinions. Blogs are ideal marketing tools for authors, publishers, and conference or teleseminar producers who value ease, speed, and low cost."
Roger C. Parker provides us with an upgrade to his How to Profit From a Blog report, focusing on marketing information with blogs. The free Marketing Information With Blogs PDF report will give you a quick 4-page overview of what blogs are, including their mechanics, and how you can use them for marketing purposes.
An excellent companion to Debbie Weil's Beginners Guide to Business Blogging.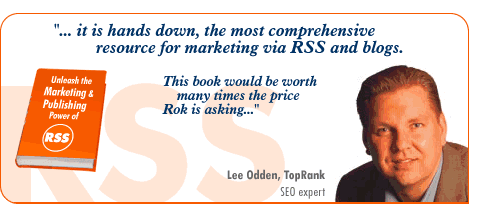 Related Articles
[April 29, 2005]
Character Blogs Revisited: Whedonesque.com Continues the Conversation
[April 22, 2005]
Internet Taking the Upper Hand 'Against' Newspapers: What Can Publishers Do?
[April 21, 2005]
Business Blogging: What's The Big Deal? Enough Already ...
[April 18, 2005]
Character Blogs as a Branding Vehicle: An Essay On the Use of Character Blogs to Extend the Brand
[April 13, 2005]
Marketers, Wake Up!
[April 11, 2005]
How to Compute the ROI of a Business Blog
[April 9, 2005]
Marketer Against Corporation: The 'Moral' Victory is No Question at All
[March 30, 2005]
Marketing Integration: Let's Just Go Back to Faxing
[March 28, 2005]
Defining the Relations Between Blogs, E-zines, RSS and E-mail
[March 24, 2005]
#1 Mistake Most Blogs Do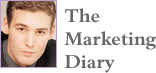 Read about real-life marketing and project management experience, views and results. Follow our projects and see what worked and what didn't and especially what you can learn from our mistakes and successes.
Edited by Rok Hrastnik
Unleash the Marketing & Publishing Power of RSS

The e-book that is defining RSS marketing.
[February 14, 2007]
Directly Grabbing RSS Subscribers and Getting Syndicated Through Pheedo RSS Advertising
[February 13, 2007]
Why is Everyone Missing the RSS Transactional Messaging Opportunity?
[February 12, 2007]
Is Amazon Missing the RSS Advertising Opportunity?
[February 12, 2007]
Will Yahoo! Pipes Increase Content Theft?
[February 9, 2007]
Comments Off Again