You are here: Home » The Marketing Diary » Column: Direct-to-Desktop Marketing » Special Report: The Marketer's Introduction to RSS Content Delivery Power
October 5, 2004
Special Report: The Marketer's Introduction to RSS Content Delivery Power
What is the internet marketing reality of 2004?
The Question of further e-mail usefulness
The e-mail delivery model
Is RSS the solution?
Will RSS replace e-mail?
What RSS actually is?
How RSS works?
Key benefits of using RSS
Key Disadvantages of using RSS
The RSS push vs pull
Key RSS business uses
Why should you care?
Find out all of this and more in the new free MarketingStudies.net PDF report, The Marketer's Introduction to RSS Content Delivery Power.
Download the PDF document by clicking here!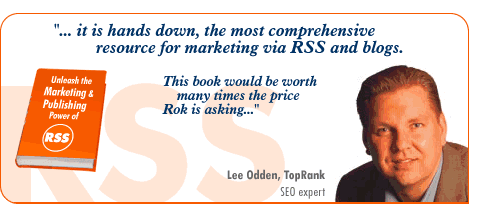 Related Articles
[February 8, 2005]
Profitable Blogging: Successful Online Advertising Strategies For Independent Publishers
[February 6, 2005]
The Transparency Police: Are You Clean?
[January 31, 2005]
E-mail Spam, Sensitive Keywords and the Future
[January 24, 2005]
Spam Slams E-Mail and Even Web Use
[January 24, 2005]
Blogger Comes Under Scrutiny for Being Commercial
[December 23, 2004]
Robin Good Got Me Again!
[October 24, 2004]
The Truth About E-mail Marketing?
[October 13, 2004]
RSS as a Change Agent: The Macroview
[October 13, 2004]
What is Relevant Content?
[September 30, 2004]
Shawn Collins on RSS: RSS & Blogs and Affiliate Marketing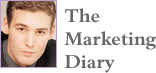 Read about real-life marketing and project management experience, views and results. Follow our projects and see what worked and what didn't and especially what you can learn from our mistakes and successes.
Edited by Rok Hrastnik
Unleash the Marketing & Publishing Power of RSS

The e-book that is defining RSS marketing.
[February 14, 2007]
Directly Grabbing RSS Subscribers and Getting Syndicated Through Pheedo RSS Advertising
[February 13, 2007]
Why is Everyone Missing the RSS Transactional Messaging Opportunity?
[February 12, 2007]
Is Amazon Missing the RSS Advertising Opportunity?
[February 12, 2007]
Will Yahoo! Pipes Increase Content Theft?
[February 9, 2007]
Comments Off Again