You are here: Home » The Marketing Diary » Column: Direct-to-Desktop Marketing » Spam Slams E-Mail and Even Web Use
January 24, 2005
Spam Slams E-Mail and Even Web Use
ClickZ Stats reports:
"Because of the proliferation of spam, spyware, and related problems, 44 percent of computer users have reduced their use of e-mail and the Internet in the last 12 months, according to findings of a survey conducted by Osterman Research."

"Over 80 percent of e-mail users believe the parties most responsible for spam are product vendors who employ spam advertising tactics and Internet service providers. However, only 26 percent of e-mail users believe ISPs have been effective at addressing the spam problem; 11 percent believe vendors have been effective, the survey found."
Can we trust these numbers?
The survey polled only 241 respondents between January 18th and 20th, which in my opinion is not enough for it to be really conclussive.
But even the small sample clearly shows that spam is becoming an increasing problem with consequences that far surpass what marketers are facing.
It seems that spam is no longer only hurting our delivery rates, but is also starting to "eat up" our target audiences.
While some might argue that RSS has come just in time to "save us", I beg to differ.
Yes, RSS is helping us deliver content to our target audiences and communicate with them in more efficient ways, not to mention all of the other possibilities it provides marketers and publishers with.
But no, the e-mail problem, as drawn above, far surpasses the "power of RSS".
Regardless of our content delivery mechanisms, people still come online mostly to use e-mail --> communicate with their friends, family and business partners.
Content consumption is a strong factor, but not as strong as communication, especially if we are talking about heavy internet use. If people can no longer communicate using the internet, they no longer have the primary reason for using it.
Of course, they'll still use it to retrieve information and use internet services, but the hours spent using the internet will continue to decrease. You can imagine where that leads to for marketers and publishers ...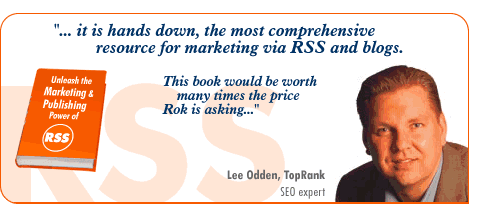 Related Articles
[February 8, 2005]
Profitable Blogging: Successful Online Advertising Strategies For Independent Publishers
[February 6, 2005]
The Transparency Police: Are You Clean?
[January 31, 2005]
E-mail Spam, Sensitive Keywords and the Future
[January 24, 2005]
Blogger Comes Under Scrutiny for Being Commercial
[December 23, 2004]
Robin Good Got Me Again!
[October 24, 2004]
The Truth About E-mail Marketing?
[October 13, 2004]
RSS as a Change Agent: The Macroview
[October 13, 2004]
What is Relevant Content?
[October 5, 2004]
Special Report: The Marketer's Introduction to RSS Content Delivery Power
[September 30, 2004]
Shawn Collins on RSS: RSS & Blogs and Affiliate Marketing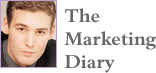 Read about real-life marketing and project management experience, views and results. Follow our projects and see what worked and what didn't and especially what you can learn from our mistakes and successes.
Edited by Rok Hrastnik
Unleash the Marketing & Publishing Power of RSS

The e-book that is defining RSS marketing.
[February 14, 2007]
Directly Grabbing RSS Subscribers and Getting Syndicated Through Pheedo RSS Advertising
[February 13, 2007]
Why is Everyone Missing the RSS Transactional Messaging Opportunity?
[February 12, 2007]
Is Amazon Missing the RSS Advertising Opportunity?
[February 12, 2007]
Will Yahoo! Pipes Increase Content Theft?
[February 9, 2007]
Comments Off Again