You are here: Home » The Marketing Diary » Column: Direct-to-Desktop Marketing » Robin Good Got Me Again!
December 23, 2004
Robin Good Got Me Again!
It's been a long time since I posted seriously to this blog. It's not that I forgot or, even worse, gave it up, but there was so little time these past few months that I could merely sleep.
Taking a new position at an international company does take its toll:)
And there was another thing keeping me from the blog ... and Robin Good just announced what to the world ... but not before "tricking" me in to an audio interview:)
Actually, we were having a little chat on RSS and my upcoming book on it, and Robin was recording the whole thing, without letting me know. In the end he told me of course and kindly asked for permission to publish the "interview" on his web site. And no, this is not one of those "I was tricked in to revealing all of my secrets, blah, blah ..." kind of things.
I was especially pleasantly surprised when I got to his site and read his opinion:
There is nothing like this I have seen before. This is a pretty monumental guide to RSS/Atom newsfeeds and their effective use for online marketing, business and publishing. Rok has entitled it: "Unleash the Marketing & Publishing Power of RSS: A Marketer's Guide to Understanding and Taking Advantage of RSS for Marketers and Publishers".
Head on to Robin's web site to get the rest of the story ...
Now you know it. Watch out for beginning of January.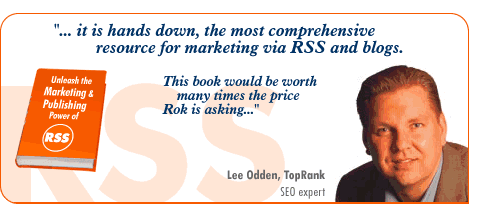 Related Articles
[February 8, 2005]
Profitable Blogging: Successful Online Advertising Strategies For Independent Publishers
[February 6, 2005]
The Transparency Police: Are You Clean?
[January 31, 2005]
E-mail Spam, Sensitive Keywords and the Future
[January 24, 2005]
Spam Slams E-Mail and Even Web Use
[January 24, 2005]
Blogger Comes Under Scrutiny for Being Commercial
[October 24, 2004]
The Truth About E-mail Marketing?
[October 13, 2004]
RSS as a Change Agent: The Macroview
[October 13, 2004]
What is Relevant Content?
[October 5, 2004]
Special Report: The Marketer's Introduction to RSS Content Delivery Power
[September 30, 2004]
Shawn Collins on RSS: RSS & Blogs and Affiliate Marketing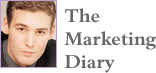 Read about real-life marketing and project management experience, views and results. Follow our projects and see what worked and what didn't and especially what you can learn from our mistakes and successes.
Edited by Rok Hrastnik
Unleash the Marketing & Publishing Power of RSS

The e-book that is defining RSS marketing.
[February 14, 2007]
Directly Grabbing RSS Subscribers and Getting Syndicated Through Pheedo RSS Advertising
[February 13, 2007]
Why is Everyone Missing the RSS Transactional Messaging Opportunity?
[February 12, 2007]
Is Amazon Missing the RSS Advertising Opportunity?
[February 12, 2007]
Will Yahoo! Pipes Increase Content Theft?
[February 9, 2007]
Comments Off Again