You are here: Home » The Marketing Diary » Column: Direct-to-Desktop Marketing » Blogger Comes Under Scrutiny for Being Commercial
January 24, 2005
Blogger Comes Under Scrutiny for Being Commercial
When taking my regular rounds of blogs commenting about "Unleash the Marketing & Publishing Power of RSS" I found that one of the people that posted a rave review about it and was also interviewed for the e-book quickly came under scrutiny for using a marketing partnership link.
Due to the nature of the accusation, Paul posted an additional notice on top of the review and removed his partnership link:
"UPDATE: There have been a few comments about whether or not I'm promoting this book for financial gain. I did use an affiliate link. I'm not now. If my name wasn't associated with it, I would still use the affiliate link. However, because I'm in the book, I felt my recommendation would be more credible by not using it. Having said that, please read my endorsement.

RMG is privileged to be included in as a case study in a new ebook Unleash the Marketing & Publishing Power of RSS. This is one of the most comprehensive books I've seen on using RSS for marketing purposes."
Now, Paul is one of the most respected bloggers blogging about RSS, and yet it seems that if he uses a partnership link when recommending something, it can be perceived as "evil".
Have we become so afraid of commercialization that we no longer even trust our favorite authors and bloggers, if they want to make a commission from something they love and are letting us know about it?
But what exactly is so wrong with this picture?
Quite simply, Paul shared his felings about a product he loves and was also included in. Yes, he used a partnership link. But why shouldn't he?
If someone bought the book and was then dissapointed with it, wouldn't that destroy Paul's reputation?
Does anyone think that a respected blogger would "venture" his reputation for a meaningless partnership link, promoting something he does not believe in?
Yes, this viewpoint might seem somewhat controversial, but I believe that every blogger who wants to keep his reputation in-tact, would never recommend something he doesn't stand behind 100%.
Why can't we trust them to do so?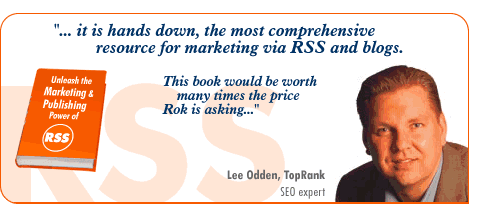 Related Articles
[February 8, 2005]
Profitable Blogging: Successful Online Advertising Strategies For Independent Publishers
[February 6, 2005]
The Transparency Police: Are You Clean?
[January 31, 2005]
E-mail Spam, Sensitive Keywords and the Future
[January 24, 2005]
Spam Slams E-Mail and Even Web Use
[December 23, 2004]
Robin Good Got Me Again!
[October 24, 2004]
The Truth About E-mail Marketing?
[October 13, 2004]
RSS as a Change Agent: The Macroview
[October 13, 2004]
What is Relevant Content?
[October 5, 2004]
Special Report: The Marketer's Introduction to RSS Content Delivery Power
[September 30, 2004]
Shawn Collins on RSS: RSS & Blogs and Affiliate Marketing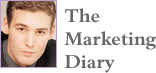 Read about real-life marketing and project management experience, views and results. Follow our projects and see what worked and what didn't and especially what you can learn from our mistakes and successes.
Edited by Rok Hrastnik
Unleash the Marketing & Publishing Power of RSS

The e-book that is defining RSS marketing.
[February 14, 2007]
Directly Grabbing RSS Subscribers and Getting Syndicated Through Pheedo RSS Advertising
[February 13, 2007]
Why is Everyone Missing the RSS Transactional Messaging Opportunity?
[February 12, 2007]
Is Amazon Missing the RSS Advertising Opportunity?
[February 12, 2007]
Will Yahoo! Pipes Increase Content Theft?
[February 9, 2007]
Comments Off Again