You are here: Home » The Marketing Diary » Marketing Stories » The Future of the Marketing Diary
September 21, 2005
The Future of the Marketing Diary
I've been giving alot of thought lately to what should happen to The Marketing Diary, due to the fact that I really don't have enough time to post regularly, considering all of my marketing projects and the other blog, The RSS Marketing Diary.
This "blog" started out with the intention of covering my internet marketing findings, experience and test results, but soon became everything but that.
Part of the reason for this unfortunate turn of events is that I'm under obligation not to share practically anything we're doing and especially not mention any numbers at all. Makes sense of course, since I'm sure our DRTV competitors would love to get their hands on our test reports and findings on what's working for us in terms of e-commerce and online direct marketing.
With this said, this blog will continue its life, although I'll only be able to share our results once they become public knowledge.
Instead, the blog will focus on my direct marketing commentary and the experience that I am at liberty to share.
Comments are of course most welcome.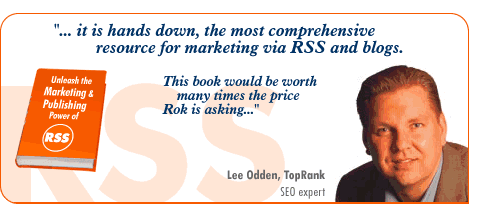 Related Articles
[March 8, 2006]
Joe Vitale's New Book Launch Campaign
[October 5, 2005]
Great Customer Service, Not Branding Creates Brand Loyalty
[April 22, 2005]
Joe Does It Again, After Taking On Potter For Yet Another Round
[April 6, 2005]
Joe Vitale Beats Harry Potter
[March 30, 2005]
Short and Sweet Interview With Seth Godin: Liars, Blogs and RSS
[March 7, 2005]
Bombed Promotion - Back-End Success
[February 28, 2005]
The International Direct Marketing Fair Report
[February 17, 2005]
George Bush and the Parachute PR Stunt
[February 14, 2005]
Reaching People With a Creative Message
[February 7, 2005]
BTI Communications: Reaching #1 Search Engine Rankings With RSS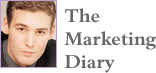 Read about real-life marketing and project management experience, views and results. Follow our projects and see what worked and what didn't and especially what you can learn from our mistakes and successes.
Edited by Rok Hrastnik
Unleash the Marketing & Publishing Power of RSS

The e-book that is defining RSS marketing.
[February 14, 2007]
Directly Grabbing RSS Subscribers and Getting Syndicated Through Pheedo RSS Advertising
[February 13, 2007]
Why is Everyone Missing the RSS Transactional Messaging Opportunity?
[February 12, 2007]
Is Amazon Missing the RSS Advertising Opportunity?
[February 12, 2007]
Will Yahoo! Pipes Increase Content Theft?
[February 9, 2007]
Comments Off Again